Screenshots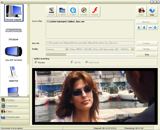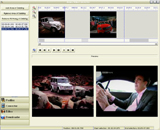 This is the most professional video program designed for Converting web flash video files flv, swf, gvi, wmv into different formats and various codecs. Program to allow you transform flash .swf & .flv video into 3GP, M4V, AVI, DVD, SVCD, WMV, MOV, QT formats for compatibility with various multi media devices PC, iPod, iZune, PSP, Mobile phones - Nokia, Sony Ericsson, Archos, different auto media and standart home DVD players etc.

Learn more about potentialities of our converter
and variety of supported video formats & codecs.

| | | |
| --- | --- | --- |
| Flash Video Converter 2.0 | Install size 12,6 Mb | Price $ 29,95 |
Do you have to know all about video formats & video codecs to prepare a video file for Computer, DVD Theatre, PSP, Zune, iPod?
If you answer YES, this program will change your opinion!
Just add Any video to our program & we'll prepare it for your. TAKE PLEASURE
Information about Flash Video Converter

This program is a comfortable Power Full Flash Video Converter due to simple & friendly interface. It can be easily used by professionals & beginners. All you need is to add the files & to push the button Convert.




This Flash Video Converter has a special instrument, Video Editor, which allows you to cut some fragments, you don't want to see in the result video. For example, you can cut the video along the edges (missing the beginning & the ending titres) or cut out advertisement.



Now you don't need other converters as our program substitutes for a group of different audio converters:

| | | | |
| --- | --- | --- | --- |
| FLV to AVI, | SWF to WMV, | WMV to AVI, | GVI to AVI, |
| FLV to PSP | SWF to PSP | WMV to iPod | GVI to Zune |
| FLV Converter, | SWF Converter, | WMV Converter, | GVI Converter, |

Flash Video Converter has one of the best library of video formats & video codecs.



Technical characteristics:
Supported Portable Media Player:
Apple iPod,
Microsoft Zune,
Sony PSP,
Creative,
Archos.
Supported Mobile phones:
Nokia,
BenQ-Siemens,
Motorola,
Sony Ericsson,
Samsung,
Toshiba,
LG,
Sharp,
Sagem,
Philips,
Pantech,
Panasonic.
Supported Video Formats:
DVD, Including Encrypted DVD, VOB, WMV,
QuickTime ( QT, MOV, MP4, M4V)
RIFF AVI, WMV, GVI
Flash, SWF, FLV
DV - Video
OGG, OGM, Matroska
Real Video(RM, RMVB)
MPEG-1/2, VOB
(S)VCD (Super Video CD)
MTV, VIVO
NSV (Nullsoft Streaming Video), NUT
Supported Video Codecs:
MPEG-1 (VCD), MPEG-2 (SVCD/DVD/DVB)
MPEG-4 (DivX OpenDivX (DivX4), DivX 5 (Pro), XviD)
H.263, H.263+, H.264
DivX, XviD
Sorenson v1/v3, On2Vp6
VIVO, MJPEG, AVID
VCR2, ASV2 and other hardware formats
Supported Audio Formats:
Mp3, Mp4, ASF, WMA, M4A, MOV, AMR, AAC, AIFF, WAV, FLV, SWF, OGG, MTV, RM etc.
Supported Audio Codecs:
Mp3, AAC, PCM, MS ADPCM, IMA ADPCM, AMR, Real Audio, Mp2, DTS, AC3, Windows Media Audio, Vorbis, GSM, DVAudio, A-LAW, U-LAW, Flac etc.

We've done our best for you to feel comfortable. It's fast and simple to take the video anywhere with Flash Video Converter.



Right after the buying of the program, the registration information will be sent to you.



You can always try the program at work before buying it, the unregistered version has all the functions, but it saves only a part of each track, after buying this limitation is cancelled.



If you have any questions, you can always contact our support service and we'll solve your problem quickly.
E-mail: support@axaramedia.com.