Axara Voice Recording Software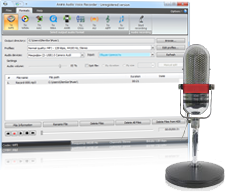 This audio recording software can record audio data from microphone, skype, web cams and any other input line available with your sound card. Program have automated system start and stop if required.
Also program record Skype conversations as well as SkypeOut and SkypeIn calls. Recordings are saved on your computer in any audio formats Mp3, WMA, VOC, AAC, OGG, AMR, FLAC, M4A.
Created by the program audio may have information about the date and time of recording, making it easier for our users find the necessary records.
Size: 11.5 Mb, Version 1.4.0
The full list of Voice Recorder features follows and download and installation is free. Download Voice Recorder here for a full 7 day trial. After you have tested Voice Recorder, you can purchase a license.
Features:
Quick and easy to operate.
The system of the Intellectual Management System start and stop recording. A variety of criteria including (off the record): timer at capturing the sound, on arrival of the mail message with a code control when you switch management options through the Internet, VoiceRecorder saves time and tape expense by starting recording automatically when sound is sensed. When the sound stops, recording automatically stops.
Voice recorder can be used for scype telephone call recording
Automatic upload of recordings to FTP server for web or internet access.
Automatically send recordings to an email address
Break recordings into easily manageable hour-long files.
Support any output audio formats: Mp3, WMA, VOC, AAC, OGG, AMR, FLAC, M4A.
100% Unconditional Money-Back Guarantee!
License benefits:
The registration email will be sent immediately, after your order is successfully placed.
FREE lifetime English support via e-mail within one business day, worldwide.
FREE update to usual versions.
Enjoy the discount opportunity for another purchase.
Supported formats:
Input formats:
Audio: Microphone, Web cam, USB sound devices, Scype, Line In
Output formats:
Audio: Mp3, WMA, VOC, AAC, OGG, AMR, FLAC, M4A
System Requirements:
Microsoft® Windows XP (SP2 or later), Windows Vista, Windows 7
Processor 1GHz Intel/AMD processor or above
Free Hard Disk 50MB space for installation